10 Mar

Development of Storage Shed for Agribulk, Rotterdam – The Netherlands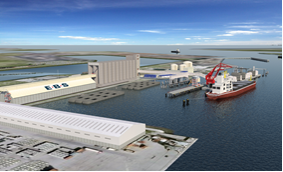 The project comprises a storage shed (flat store) for the storage of 60,000 m3 agribulk products including a material handling system consisting of the following elements:
A new hopper on existing pier – for receipt of agribulk from barges up to Panamax size bulkcarriers using floating cranes.
A new travelling hopper including batch weigher on a new pier – for receipt of agribulk from Panamax size bulk carriers using floating cranes; dispatch to land-based conveying system or directly into barges or coasters using a loading spout attached to the hopper.
An intake conveying system with tripper car to distribute the agribulk over the various shed compartments.
A wheel loader for reclaiming of the agribulk material from the stockpiles, to be discharged into two hoppers or directly into trucks.
An outtake conveying system, connected to a train loading station and waterside pier for loading of barges and coasters.
The material handling system is controlled by a modern PLC/SCADA system and is furthermore equipped with dedusting units and weighing facilities.
Services provided by MHC are:
Layout design of the facilities.
Preparation of technical specifications and contract documents for the material handling systems.
Tendering and assistance during contract negotiations.
Project leader for the material handling system including checking of design and supervision during construction.
Rotterdam, Holland
2013-2014