05 Aug

EXPLORING AUTOMATION OF TERMINAL OPERATIONS – WALVISBAY, NAMIBIA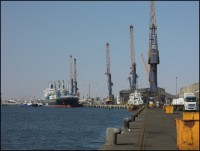 The Port of Walvisbay is situated along the west coast of Africa and is the largest port of Namibia. The port handles approximately 5 million tons of cargo annually, consisting of containers, dry bulk, liquid bulk and general cargo. Furthermore the port has ship repairing facilities, including a syncrolift for vessels up to 2000 tons.
Services provided by MHC are:
Exploration of automation of the following parts of the port:

New container terminal (under construction);
Existing general cargo / break-bulk terminal;
Syncrolift for lifting vessels up to 2000 t.
Solid Port Solutions.
Walvisbay, Namibia
2015