10 Apr

DESIGN AND PROCUREMENT OF HOPPERS AND CONVEYING INSTALLATIONS – EGYPT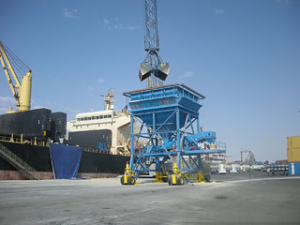 Design and Procurement of Material Handling system for the import of raw sugar, Sokhna Port – Egypt
The project comprises the design and procurement of two mobile dust aspirated hoppers and link conveyors for the handling of raw sugar for the Savola sugar refinery in Sokhna Port. The refinery has an annual capacity of 750,000 ton sugar. The raw sugar will be unloaded from vessels using two mobile cranes in four-rope grab operation at a total capacity of 1,000 tons per hour. The equipment is designed to handle other bulk materials in the future as well and is equipped with onboard diesel-generator set, air-compressor, hydraulic installation and dust collection units.
Services provided by MHC are:
Preparation of capacity calculations.
Layout design of hoppers and conveying installation.
Preparation of technical specifications and tender documents.
Inspection during manufacturing and assembling.
Supervision during testing and commisioning.
Sokhna Port Development Company
2005-2006