10 Apr

LOGISTICS STUDY FOR COAL IMPORT BANGLADESH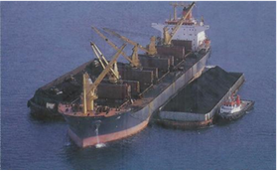 A major investment group in Bangladesh awarded an assignment to African Waterways to provide advisory services  for a logistics study  for the development of a dedicated coal logistic chain and transport related infrastructure (inland ports, a floating unloading system in deep sea, inland river navigation system etc.).
The group is in advanced stage op planning for the construction of 2 coal fired powerplants in the Bangladeshi delta. The daily coal consumption for each of the plant is around 6000 tons. The coal will be imported from Indonesia or South Africa by a mother vessel (Panamax).
Such Panamax vessels cannot reach the upstream powerplants.
For African Waterways MHC studied various options and routes to supply coal by smaller vessels to the two inland locations (up-river) based on available water depth, wave data/climate, the size of the coal supply vessels, barges etc.
Services provided by MHC are:
Definition of cargo flows (throughput).
Preparation of a logistics flow charts.
Selection of transhipment options for the coal.
Selection of transhipment facilities (equipment selection).
Calculations of the various alternatives and selection of preferred routing.
Capex and Opex calculations.
African Waterways
Bangladesh
2014