04 Jul

EMPLOYERS REPRESENTATIVE FOR DEVELOPMENT OF LIQUID BULK TERMINAL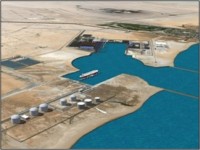 Sonker Oil Terminal Al Sokhna (SOTCO) has started construction of the Sokhna Port Basin Three Liquid Terminal. The liquid bulk terminal is planned adjacent to the existing ammonia tanks and covers an area of over 400,000 m2. A masterplan of the terminal, incorporating the ammonia tanks has already been drafted. Now three gasoil tanks (100.000 m3) and three LPG tanks (150.000 m3) will be developed by SOTCO (Phase A of the tankfarm). The construction is carried out by PetroJet.

Services provided by MHC are:
Preparation of tender documents;
Contract negotiations;
Employers Engineer Representative during all stages of preparation and construction, leading a team of local construction supervisors of several engineering disciplines.
Sonker
Egypt
2015 – present