02 Apr

» Engineering of Liquid Bulk Terminal Sokhna Port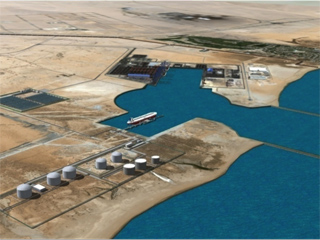 SOKHNA LIQUID BULK TERMINAL
Sonker Oil Terminal Al Sokhna (SOTCO) is planning to advance with the development of a liquid bulk terminal at Sokhna Port. The liquid bulk terminal is planned adjacent to and surrounding the existing ammonia tanks. A master plan of the terminal, incorporating the ammonia tanks, has already been drafted. Now three gasoil tanks and three LPG tanks will be developed by SOTCO (Phase A of the tankfarm). This development will be engineered and constructed.
Services provided by MHC are:
Engineering of the infrastructure of the tank farm;
Engineering of:

Outside battery limits utilities.
Inside battery limits utilities.
On terminal Fire fighting system and intake.
LPG heating water intake and outtake system.
Fire fighting tower and gangway at the jetty.