10 Apr

Feasibility study Greenfield deep sea port development – Nigeria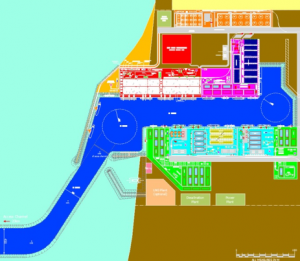 Port Consultants Rotterdam was involved by an external party to make a technical feasibility study and layout study for a new large deep sea port to be developed in Nigeria. The study started with determining the optimum location of the port along the coastline. For the chosen location a preliminary masterplan was drafted, including supporting logistical calculations and preliminary designs of all terminals.
MHC supported PCR with the design and draftswork of the on-shore terminals, consisting of:
Liquids terminal.
Container terminal.
Dry Bulk terminals for various commodities.
Off Shore supply bases / Logistic centres.
Supporting infrastructure.
Services provided by MHC are:
Logistics calculations.
Preliminary Design of all terminals, Masterplan drawing.
Assessment of required terminal Equipment and Installations, cost estimates.
Assessment of capital investment costs (on-shore civil works).
Operational cost estimates.
Port Consultants Rotterdam
Nigeria
2013