10 Mar

Development of Flatstore for Agribulk Derivatives – Rotterdam, The Netherlands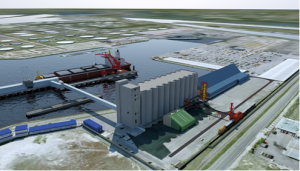 Flatstore for agribulk derivates – Rotterdam, The Netherlands
European Bulk Services B.V. is operating an agribulk terminal in the Rotterdam Europoort area. The terminal consists of silos for storage of grains and handling facilities for bulk carriers, coasters, barges, trains and trucks.
The project comprises expansion of the existing facilities with a new 60,000 m3 flatstore and handling systems for the storage and handling of agribulk with poor flow characteristics such as seedcakes (e.g soybean meal). The project includes a new jetty with travelling hopper for unloading of bulkcarriers up to Post-Panamax size using floating cranes with direct transhipment possibilities. Furthermore truck loading facilities and upgrading of train loading facilities are included
Services provided by MHC are:
Preliminary studies and Conceptual Design.
Artist Impressions.
Tender documents.
Construction Management and Supervision.