30 Mar

Conceptual design of Grain Terminal – Aqaba, Jordan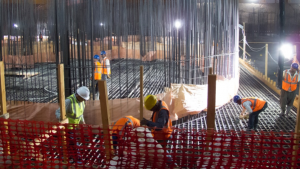 Aqaba Grain Terminal
The Aqaba New Port Grain Terminal is located in the South–eastern part of the new port. The conceptual design of the grain terminal includes the ship unloading systems, conveying systems, storage silos, truck loading & bagging station, offices and other support facilities. The storage facilities consist of 28 concrete silos with a total storage capacity of 100,000 tons, for the storage of free flowing grains. The truck loading and bagging station consist of 6 loading bays for truck loading. Two bays can be used for both bulk truck loading and bagging for grains, in a bags size range from 25-50 Kg.
The project was awarded end 2012 turnkey to a contractor for execution. During the construction phase, MHC stationed a resident engineer and provided consultancy services for the review of the contractors design documents.
Services provided by MHC are:
Conceptual design of the grain terminal (2009).
Stationing of a Resident Engineer for construction of the grain terminal (2013).
Review of contractors design documents (2013).
Arcadis Nederland BV
2012-2014