10 Jun

MASTERPLAN MULTIPURPOSE TERMINAL PORT OF BELIZE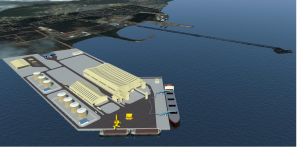 Development of a masterplan for a multipurpose terminal – Port of Belize, Belize
The Port of Belize is seeking expansion possibilities for mainly the export of their agricultural products such as raw sugar, banana's, wheat, maize, beans. In parallel the port is planning to import fertilizer, liquids (gasoline and diesel) and heavy project cargo in growing quantities.
In the existing situation the agricultural products arrive by small vessels and barges, and are loaded board to board into 10,000-15,000 DWT vessels, with a capacity in the range of 200 ton/day. These low capacities and loading rates are hampering the further growth of this sector. Oxalis is one of the stakeholders in such a port expansion project, and has requested Materials Handling Consultants (MHC) to provide expert services for the development of a masterplan for the multipurpose terminal.
Services provided by MHC are:
Calculations to determine the required number of berths, land area and storage requirements for each type of commodity, including phasing of the multipurpose terminal if applicable.
Determination of the necessary equipment for the handling of the predicted cargo.
Preparation of the equipment layout in the existing plot layouts.
Global cost estimate of the required terminal equipment.
Supporting sketches of the equipment.