20 Jun

LOGISTIC STUDY AND SELECTION OF REQUIRED EQUIPMENT FOR OFFSHORE TRANSHIPMENT OF BAUXITE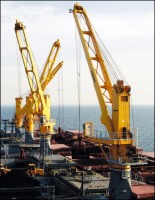 Guinee has extensive reserves of high quality bauxite. MHC's Client intends to export bauxite in 10,000 DWT barges over a shallow river, to be shipped 20-25km offshore (beyond the -18m water depth line) where the bauxite can be transferred in a Floating Transhipment and Storage Vessel (FTSV). The FTSV will load Capesize bulk carriers and hold a buffer in order to minimize  interruptions of the loading process of the Capesize bulk carriers.

Services provided by MHC are:
Description of the logistics/transshipment process;
Prepare top view drawings of proposed transshipment process;
Selection of required material handling equipment for the FTSV;
Prepare a rough cost estimate of investment costs required.
African Waterways
Guinee
2016