28 Sep

Conceptual and preliminary design of storage facilities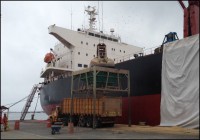 A concessionaire of a multi-purpose terminal is upgrading the infrastructure and superstructure of its port facility. MHC was approached by Arcadis to assist with the logistical aspects and material handling systems of the design works of the following facilities:
Grain storage facility;
Fertilizer warehouse;
Cold storage facility.
Services provided by MHC are:
Preparation of basis of design;
Development of conceptual designs, three alternatives for each facility;
Development of preliminary designs of the selected alternative for each facility;
Technical specifications of the material handling systems;
CAPEX/OPEX estimates.
Arcadis
South America
2016