10 Apr

PROCUREMENT OF CONTAINER HANDLING CRANES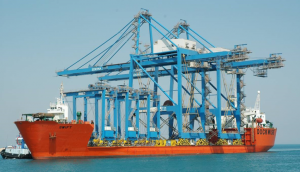 The project comprises the procurement of 2 super-post-Panamax sized ship-to-shore container gantry cranes (STS-cranes) and 3 Rubber Tyred Gantry cranes (RTG's) for Sokhna Port, Egypt.
The cranes are purchased from Reggiane Cranes & Plants from Italy.
Project management, engineering and component procurement was done in the head-office in Italy. Manufacturing of steel structures and assembly of the cranes was done in China (former Noell plant). The cranes are delivered in one shipment to Sokhna Port.
The project was repeated in 2006 with the procurement of 2 STS-cranes and 5 RTG's. The size of the STS cranes was increased to handle vessels with 22 wide containers on deck.
Services provided by MHC are:
Preparation of technical specifications and tender documents
Tendering and Tender evaluation
Checking of the design of the cranes
Construction and assembly supervision
Supervision during loading/unloading, testing and commissioning
Overall project management including co-ordination of related activities (e.g. procurement of crane rails and power supply system)
Sokhna Port Development Company
Sokhna Egypt
2003-2004 and 2007-2007