11 Sep

Procurement of equipment for the Port of Mombasa – Kenya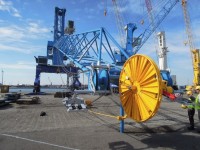 Kenya Ports Authority (KPA) is in the process of procuring four eco-mobile hoppers and two mobile harbour cranes. The cargo that will be handled with this equipment will be dry bulk ranging from coal to clinker, and sulphur to iron ore. KPA has prepared the technical specifications for procurement of this equipment and together with TradeMark East Africa (TMEA) they have started the tender process.

Services provided by MHC are:
Reviewing and revising of the technical specifications of the mobile harbour cranes and eco hoppers;
Make recommendations in order to best proceed with the tender process.
Market survey and CAPEX estimates
Support during tender process
Evaluation of tenders
Tender and implementation support for procurement of equipment
Perform factory inspections and pre-shipment inspections including witnessing of testing all functionalities, including overload testing of the cranes
Witnessing of the cargo handling process at Mombasa Port to verify correct performance of the hoppers and cranes when operating together.