31 Mar

Review of Design of 2 Grain Storage Facilities, Egypt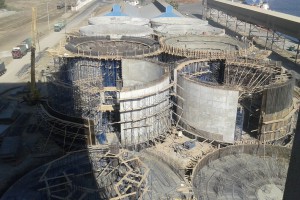 REVIEW OF CONTRACTOR'S DESIGN DOCUMENTS AND QUALITY CONTROL OF TWO GRAIN STORAGE FACILITIES
NECB is providing project management services for its Client AOI Aircraft Factory (AOI). AOI is in the process of procuring an expansion of the existing grain storage facility at Damietta Port with a ship unloader and a facility for the storage of 70,000 tons of grains. For an almost identical second project AOI is procuring a ship unloader and grain storage facility of 60,000 tons at Alexandria Port/Ameriya in Egypt. NECB has requested assistance of Materials Handling Consultants (MHC) for the review of the contractor's design documents and overall quality control for both grain storage facilities.
Services provided by MHC are:
Review of contractor's design documents of M&E works, amongst others: ship unloaders, weighbridges, truck dumpers, intake pits, bucket elevators, chain elevators, silos, belt conveyor, truck loading facilities etc.
Pre-shipment inspections and quality control.
Supervision during testing of facilities on site.