10 Apr

BOT Tender for the Adabeya Dry Bulk Terminal – Egypt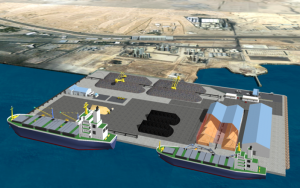 The Egyptian Ministry of Transport has issued an international tender for the construction, management and operation of a Dry Bulk Terminal. The terminal is to be established in the existing port of Adabeya in the Gulf of Suez. For this tender, the Government is represented by the Red Sea Port Authority. The Dry Bulk Terminal includes the reclamation of the terminal, the dredging of a basin up to at least 14 meters of water depth, construction of a quay wall and the construction of storage area for the dry bulk cargo.
Services provided by MHC are:
The preparation of a project design (i.e. a layout design of the dry bulk terminal   including the quay wall and dredging   works)   and a business plan.
The business  plan  included amongst others:

Market forecast.
Technical description of the terminal infrastructure and equipment.
Description of proposed operations and organization.
Health, Safety, Security and Quality.
Investment cost estimate.
Implementation and construction schedule.
Financial section, including capital structure and tariff proposal.