02 Apr

» Engineering services for Dry Bulk Terminal Rotterdam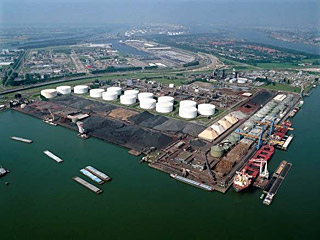 EUROPOORT TERMINAL ( DRY BULK)
European Bulk Services (EBS) operates in Rotterdam a grain terminal for import and export of agribulk products and a multi-purpose dry bulk terminal for over 80 different bulk materials, predominantly coal, but also scrap, vermiculite, special ores, etc with a total throughput of around 17 million ton per year. The grain terminal consists of a 100,000 ton silo complex and a warehouse and is operating with pneumatic unloaders, loading spouts and floating grab cranes. The mineral dry bulk terminal consists of both open and closed storage facilities in various shapes and is equipped with two gantry-type bulk cranes, floating cranes, and some smaller quay-side cranes. Wheel loaders are predominantly used for reclaiming operations.
Throughout the years Materials Handling Consultants is acting as in-house engineer/consultant for EBS for various projects varying from preparation of drawings and specifications for small equipment modifications and terminal layout drawings and business plans for potential new storage and handling facilities for changing market demands up to berth occupancy calculations, investment cost calculations, preparation of tenders for implementation of new installations, etc.
Various engineering and consultancy services have been provided by MHC amongst others for the following projects:
New silo complex including conveying system related to a new bio-diesel refinery.
Rail wagon loading/unloading installation for agri-bulk.
Rail wagon loading installation for coal.
New conveying system and barge loading installation for coal.
Modification of old pneumatical unloaders to receiving hoppers.
Berth occupancy calculation and rearrangment of piers and conveying system of the Europoort terminal.
Artist impression drawings for new warehouse and conveying installation for vermiculite.
Preparation of as-built drawings of terminals reflecting various yard re-arrangements.
Warehouse for calcined petroleum cokes.
Capacity calculations for floating transhipment operations.
Rotterdam Europoort Laurenshaven Terminal, Rotterdam Botlek area (Rozenburg)
Continuous – various projects though out the years