29 Mar

Expansion mineral dry bulk terminal Rotterdam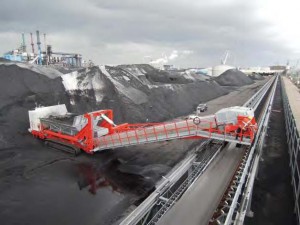 EXPANSION MINERAL DRY BULK TERMINAL – ROTTERDAM
MHC was involved with several expansions of a mineral dry bulk terminal in the Port of Rotterdam:
2008: New high throughput conveying system with 6 receiving hoppers for reclaiming of various bulk materials with wheel loaders. The hoppers have an automatic dosing system based on volumetric flow for low density bulk (e.g. pet cokes, coal) and mass flow for high density bulk (e.g. ores)
2011-2012: Conveying system with semi-automatic rail-mounted stacker for intake and mobile receiving hoppers for outtake of coal and other mineral bulk commodities.
Services provided by MHC are:
Logistical calculations for equipment selection and storage optimization.
Layout design and equipment specifications.
Preparation of contract documents.
Checking of the design and inspections during construction.
Technical and management support of client's project team.
EBS
Rotterdam, The Netherlands
2008 and 2011 – 2012